Aggressive chemicals call for equally aggressive safety measures. Sealants, vents and filters from Gore set a global standard for the secure manufacture and processing of chemicals, and our long-lasting, efficient materials help chemical processors control costs.
Overview
In today's global economy, chemical processing and manufacturing is more challenging than ever. The industry is strictly regulated, emerging geographic markets call for specific requirements and methodologies, and businesses are under pressure to increase profit margins.
On top of these challenges, chemicals are inherently difficult to control and contain — yet failure to do so poses great risks to workers, consumers and our planet.
Minimise risks and costs. That's what chemical processors need to do now, and Gore helps them do it.
Gore's sealants, filters and vents prevent contamination and optimise performance in chemicals processing and during the manufacture of products, from pharmaceuticals to minerals, that involve active formulations. Chemical processors turn to us because our solutions contain process streams and filter particles in the most demanding conditions — meaning reduced downtime, increased productivity and, ultimately, greater cost control.
Two primary factors enable Gore to do this: our core technologies, and our 40 years of experience developing tailored solutions in this industry. Through innovations in ePTFE and other advanced materials, we produce components that suit our customers' needs, from the solutions' chemical makeup to the temperature range. Experience across the industry — and around the world, in markets both large and small — has prepared us to deliver solutions that meet our new customers' needs, no matter how new or segmented their market may be. 
The Key to Risk-Free
Aggressive, corrosive chemicals are a wild card. Process components are built to contain chemicals, but if those components' materials react to the chemicals, they could rupture, and the chemicals could leak or enter the air. 
Gore's expertise lies in removing material uncertainties that could spell danger during processing. The materials in our solutions — particularly ePTFE — are chemically inert, enabling them to hold their seal or successfully filter or vent matter regardless of the chemicals to which they're exposed. Additionally, our materials have wide temperature ranges. Some products may become more brittle or less chemically stable when exposed to extremely high temperatures; because our products can withstand these extremes, they still don't react to the aggressive chemicals they encounter. 
Finally, our materials have superior tensile strength and dimensional stability. Toughness during processing means our components can be used for the long haul — and manufacturers enjoy a strong ROI.
About Our Solutions
From pharmaceuticals to computers, many industries process and manufacture chemicals. Gore serves these diverse industries with sealants, filtration products and vents that contain and handle chemicals safely and securely, even over time.
Our sealants for industrial applications include sheet gaskets, pipe gaskets, joint sealants and gasket tape. Used to seal a range of industrial equipment — including steel piping, steel flanges and fibre-reinforced glass flanges — the sealants are easy to install and demonstrate resistance to creep and cold flow. Made of 100% ePTFE, each product is chemically inert, resisting attack by every kind of chemical except molten alkali metals and elemental fluorine.
Gore's filtration media securely handles chemicals for a wide range of applications. From controlling dioxins in crematoriums to reducing carbon emissions in the minerals industry, our filters and cartridges are known to reduce gaseous dioxins, furans and mercury while Gore's . microfiltration solutions ensure a high level of contamination protection in ever-smaller microelectronics. Finally, our vents equalise pressure to prevent dangerous chemical buildup in equipment, mobile electronics, containers and packages. For instance, GORE® Packaging Vents have a ePTFE membrane layer that allows continuous airflow - enabling the air and gas molecules from active formulates to "exhale," so they don't build up and cause containers to bloat, leak or explode.
Heritage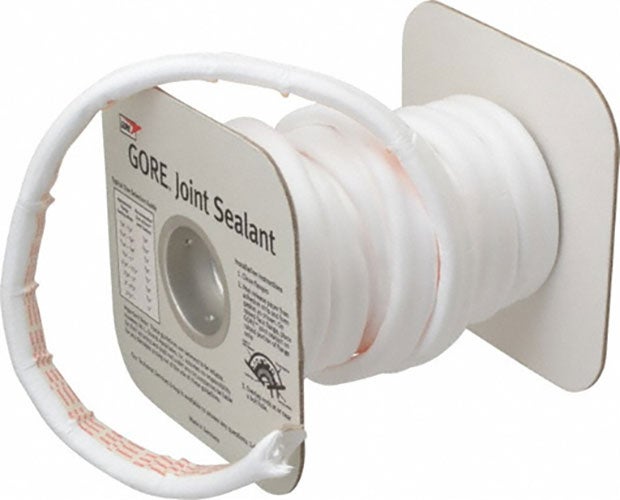 100% ePFTE GORE® Joint Sealants have delivered outstanding performance in general-use applications for over 40 years.
Gore has experienced a lot of firsts in the chemicals industry. It began with the GORE® Joint Sealant, released over 40 years ago as the first chemically inert, flexible, dimensionally stable joint sealant cord.
This 100% ePTFE sealing cord leverages the material's properties to be chemically resistant and non-particulating — making it ideal for use in strong alkali-, acid- and solvent-based chemical process systems. With the joint sealant's cost-effectiveness and ease of installation, it's widely used today in large steel flanges in many general-use applications.
About ten years later, we released the GORE® GFO® Fiber. The first highly chemically resistant lubricated pump packing, the ePTFE-based fibers are used for general-service packing in many applications, including sealing shafts on high-speed pumps, mixers, agitators or any other equipment with rotating or reciprocating shafts.
Then, around 1990, our GORE® GR Gasketing hit the market, making it the first chemically inert, conformable and dimensionally stable sheet gasketing available.
Each of these products is still available and widely used in markets around the globe — a testament to their high performance and the ROI chemical processors can expect from Gore.
Contact Us
North America
+1 800 437 5427