Breathable, waterproof and built to endure the most dangerous physical environments, GORE® Protective Fabrics enable firefighters and public safety officers to stay engaged, focused and protected in critical missions.
Fire & Public Safety/Police Products
First responders have physical jobs. From firefighters and emergency responders to law enforcement officials and SWAT teams, public safety officers venture into the most dangerous environments imaginable — and to do their jobs, they need protective garments that keep them protected with a limited amount of physiological burden.
Gore engages with first responders to understand their challenges on the job. From these interactions, GORE® fabrics are designed to meet the needs of the end user. Our fabrics provide:
increased comfort due to highly breathable barriers that help manage heat stress better in a broad range of conditions
certified protection from hazards found at emergency scenes
long-lasting durability for excellent field performance
For over 35 years, Gore has applied these principles to design life-critical protective fabrics. GORE® Protective Fabrics used in garments, boots and gloves allow users to focus on their mission and not their protective gear.
Fabrics Fit for the Mission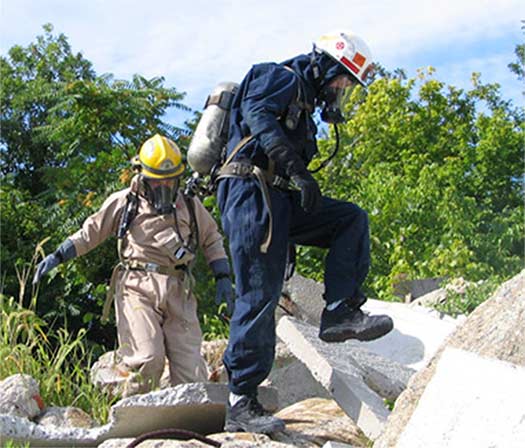 Lightweight and breathable, ChemBio protective suits made from durable GORE® CHEMPAK® fabrics provide protection against harmful chemicals.
Gore's materials science capabilities enable us to engineer solutions to fit each application. For our fire and safety services solutions, that means we can design fabrics to fit the environment for each profession.
For instance, firefighters  require superior protection but also need to consider heat stress, which can impair performance and, potentially, their safety. GORE® CROSSTECH® moisture barriers are specially engineered to help manage heat stress by offering excellent breathability in broader conditions. These barriers offer excellent thermal stability by maintaining their barrier performance and breathability after being exposed to extreme heat — all while resisting liquid penetration of blood, body fluids, common chemicals and water. And, the revolutionary GORE® PARALLON™ liner system offers enhanced thermal protection while achieving a new level of breathability beyond conventional gear availiable today.
For missions that may involve exposure to toxic industrial chemicals or chemical and biological agents, ensembles with GORE® CHEMPAK® fabrics provide NFPA-certified protection and enhanced functionality. These ensembles enable first responders to better perform physically demanding activities in both hot and warm zones. Also, the durable, lightweight fabrics enable the user to stay physically engaged longer.
Police officers encounter various weather conditions when out on patrol. Patrol jackets made with GORE-TEX and GORE® WINDSTOPPER® fabrics provide all-day comfort and all-weather protection. The fabrics are durable, lightweight and highly breathable, so an officer can put it on and keep it on. Because safety is always paramount, GORE-TEX covers are also available for body armour, covering bulletproof vests in a lightweight material that repels water, body oils and chemicals.
The Evolution of Protection
GORE-TEX and other GORE® Fabrics have been a global standard in comfort and protection since the 1970s. In 1982, Gore first made our fabrics available for fire and safety applications by introducing the GORE-TEX Moisture Barrier Fabric. This material incorporated an ePTFE membrane layer to reduce heat stress through its superior breathability, thermal stability to combat exposure to flames, and the durable waterproofness expected of GORE-TEX Fabrics.
A short while later, Gore participated in "Project Fires" with the International Association of Firefighters (IAF). Our Moisture Barrier Fabric was durable, comfortable and protective during these independent tests, confirming results from our own physiological testing. By 1989, the National Fire Protection Association (NFPA) and its technical committees accepted our Moisture Barrier Fabric as the industry standard.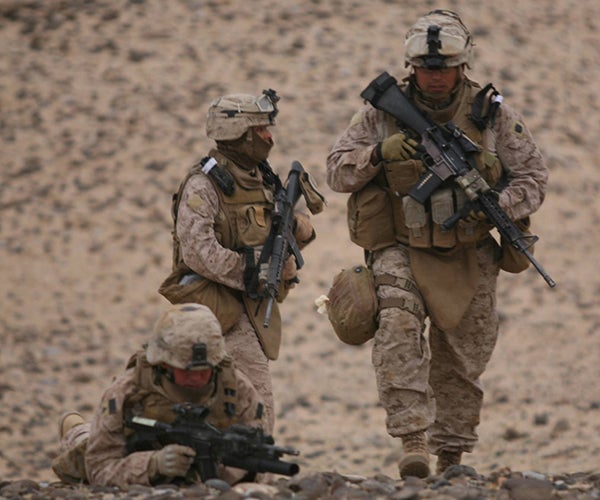 During the 1990s, GORE® Fabrics expanded to outfit other safety and security personnel. In 1991, we patented a process for blocking noxious chemicals while reducing heat stress. The first-ever Gore patent in carbon beads, this led to the development of a flexible, lightweight fabric that replaced bulky bubble suits for use in hot zones.
Gore's developments in carbon bead technology then led to the CHEMPAK® line of products, which provide protection against toxic industrial chemicals and chemical warfare agents; a CHEMPAK® glove, enabling greater dexterity and tactility without risk of chemical exposure; and, in 1999, the APPPE Suit (All Purpose Personal Protective Ensemble). As chemical agents remain a threat today, we develop our garments to better answer the call, so first responders can do the same.
Though the environments encountered by firefighters haven't changed much since 1992, we're still finding ways to reduce heat stress so firefighters can do their jobs more effectively. With the GORE® PARALLON™ Liner System, we recently introduced a multi-barrier system that exceeds NFPA standards for breathability and thermal protection.