Pharmaceutical & Biopharmaceutical Industry
In a highly regulated industry marked by economic pressures and drug development and processing challenges, Gore provides technology-driven products and process components designed for efficiency, reliability and contamination control.
In the production of pharmaceuticals, patient safety must come first.
In the production of pharmaceuticals, patient safety must come first.
Pharmaceutical & Biopharmaceutical Industry Products
Overview
Through developments in drug discovery, the industry is finding new, innovative ways to treat and prevent diseases. The increased pace of research and discovery continues to quicken, consequently new possibilities for patient well-being create a greater need for safety: To ensure pharmaceutical products are safe for patients they must be manufactured and packaged to minimise risk to the user as required by stringent regulations.
Gore helps those in both drug discovery and manufacturing compete in this increasingly regulated landscape with reliable solutions for purifying, transferring, storing, filtering, processing and packaging. These solutions include durable, multi-use process components and single-use products which enable researchers and manufacturers to control costs through process improvements — very important given the increasing costs of biologic drug development.
Backed by our materials science expertise and commitment to regulatory compliance, we have a track record of improving the processing and delivery of pharmaceutical products.
Meeting the Industry's Changing Needs
As an expert in fluoropolymers, Gore has contributed technology-driven solutions to many industries. In the early 2000's, we saw an opportunity to contribute to the pharmaceutical industry with the release of the GORE® LYOGUARD® Freeze-Drying Tray.

The breathability of ePTFE gives GORE LYOGUARD Freeze-Drying Trays its high moisture vapor transmission rate.
The single-use tray incorporates an ePTFE membrane selected for its superior barrier properties and high moisture vapour transmission rate. The tray's high vaporisation rate allows materials to freeze-dry very quickly and the ePTFE barrier membrane minimises the risk of cross-contamination. As a single-use solution, the tray delivers maximum quality with minimal processing time.
Over time, we've added more transfer and containment solutions to our portfolio, leveraging our materials science expertise and additional ePTFE benefits, such as its biocompatibility, high tensile strength and low particulation.
The single-use GORE® STA-PURE™ Flexible Freeze Containers offer a new solution for bulk drug substance that protects container integrity with greater crack and impact resistance during cold chain handling. The high-purity fluoropolymer container material has low extractables profile for added piece of mind.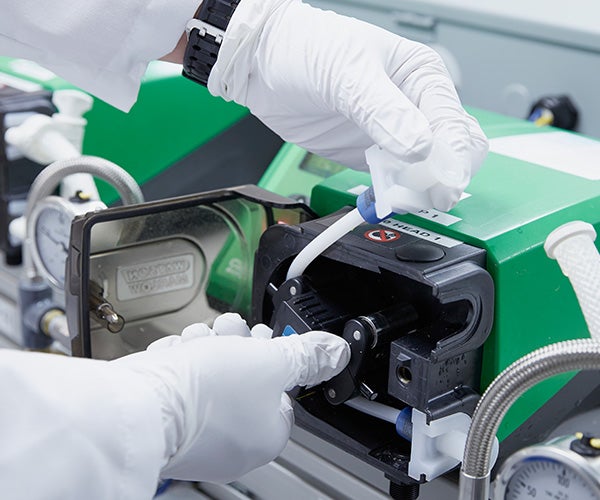 GORE STA-PURE Pump Tubing performs reliably under challenging processing conditions.
GORE® STA-PURE® Pump Tubing provides durable and reliable product performance under high pressure or other challenging process conditions. Our other single-use components, such as GORE™ Molded Assemblies, enable the secure transfer, containment and sampling of liquids during pharmaceutical manufacture.
As the industry sought quality and process improvements, Gore leveraged its decades of experience in filtration and venting to support pharmaceutical and biopharmaceutical manufacturers. Now, we offer several proven products for filtration:
GORE® Microfiltration Media is readily incorporated into filter devices. Our various forms of filter media offer effective and reliable retention of particles to provide superior efficiency and process security.
For companies engaged in large-scale food, feed and industrial fermentation processes, GORE® Fermentation Air Filters are drop-in replacement cartridges that combine high retention with high airflow and low pressure drop across the filter enabling companies to save energy and potentially boost yields.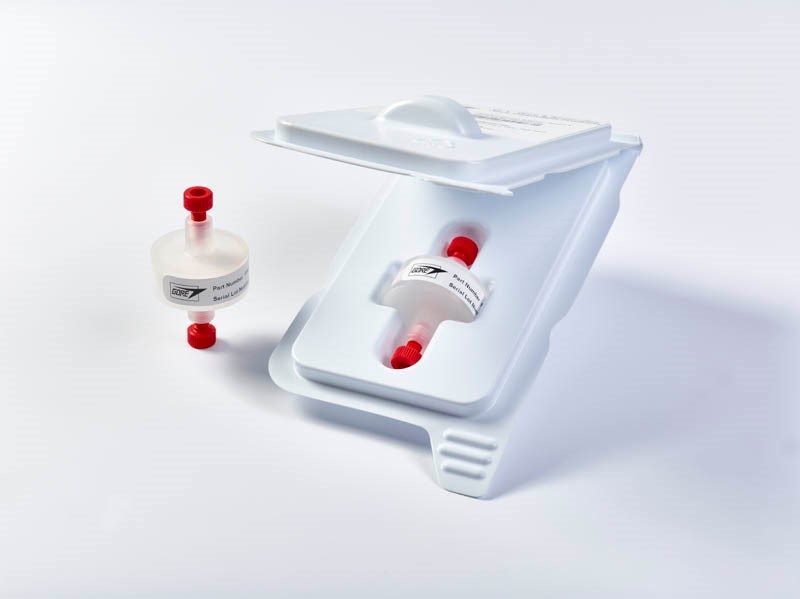 GORE™ Protein Capture Devices are ideal for drug discovery applications, providing high binding capacity and short residence times.
Researchers in the fast-growing biologics drug development depend on repeatable and reliable processes to deliver high quality results. Traditional protein purification processes can be slow and often require additional steps to achieve needed concentration.
The GORE™ Protein Capture Device with Protein A utilises a unique membrane solution for faster antibody purification to help minimise screening pipeline back-ups, help eliminate downstream concentration steps and improve the speed of purification.
Products which perform as promised
With Gore's materials science expertise and collaboration with the pharmaceutical industry comes an understanding of how our solutions provide value in a given application.
When developing a product or process component, we tailor our materials and performance to align with the customer's system requirements, often going beyond what's expected. Prior to releasing the product, we rigorously test it for fitness for use to ensure peak performance and reliability over time.
Good Manufacturing Processes
All Gore products for life sciences are manufactured specifically for use in medical or pharmaceutical applications and comply with the regulatory requirements of our customers. Depending on those requirements, you will find products manufactured in a manner that adheres to current Good Manufacturing Practices (cGMP), as defined in the Gore PharmBIO products quality system which is certified to ISO 13485 and ISO 15378.