Overview
In many industries and applications, sealing solutions need to contain aggressive media and protect equipment while durably withstanding exposure to chemicals and extreme temperatures in challenging environments. 
In civil and defense aerospace environments, seals are trusted to prevent corrosion and abrasion, thus protecting the aircraft, reducing maintenance time and increasing aircraft availability.
Our industrial and aerospace products include sheet gasketing, cut to shape gaskets, form-in-place tapes, joint sealants and packing.
The Science Behind Our Sealing Solutions
What sets our sealing solutions apart is their use of expanded PTFE, or ePTFE. Inherently chemically inert, waterproof, thermally stable and mechanically robust, ePTFE keeps our sealing solutions robust, even when exposed to aggressive chemicals, friction, or high or even very low temperatures. In fact, some of our tapes and gasket solutions can withstand temperatures up to 315°C and down to -269°C (600°F down to -452°F), making them ideal for a range of applications and industries.
A prime example of ePTFE in action is GORE® Gasket Tape Series 500, a 100% ePTFE tape used to seal large and/or non-standard steel flanges. GORE Gasket Tape is conformable and has a tight, long-lasting seal — and it only requires one person to install. Its easy handling and industry-leading creep resistance can lead to significant time and financial savings, along with increased productivity.
Another example are GORE™ SKYFLEX™ Aerospace Materials, available in a variety of tapes and gaskets. Commonly used as alternatives to Form-In-Place seals in commercial and military aircraft, SKYFLEX materials combine ePTFE with other proprietary processes to resist fuels and aviation fluids, withstand extreme temperatures, and remain in place under compression — all factors critical to the success of the aircraft in production and operation.
Contact Us
North America
+1 800 437 5427
Scandinavia
+46 31 706 7800
United Kingdom
+44 1506 46 0123
United Arab Emirates
+971 2 508 9444
---
Aircraft Sealing and Surface Protection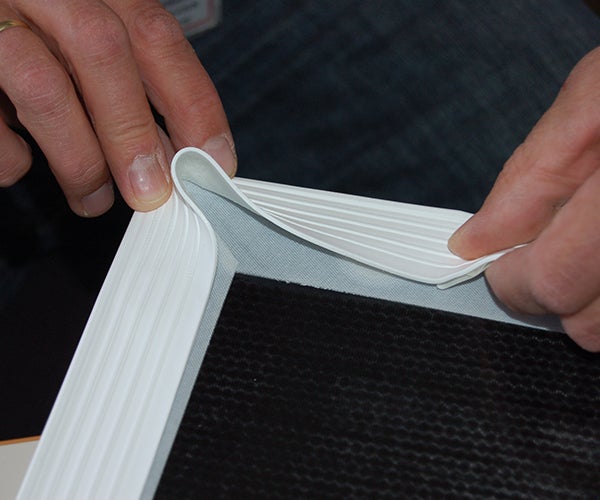 GORE™ SKYFLEX™ Aerospace Materials are a portfolio of unique, commercially-available material sets, forms and sizes with a wide range of engineered properties and specifications. Gore's tapes and gaskets are specified by leading civil and military aircraft OEMs and solve many challenges such as sealing, abrasion, corrosion and gap filling. These materials can also withstand a wide range of temperatures.
Aircraft Sealing and Surface Protection
---
Gaskets for Industrial Applications
GORE® Gaskets provide fast, easy installation and tight, reliable sealing for glass-lined steel, plastic and steel flanges in the most demanding industrial applications worldwide. Made of 100% ePTFE, this chemically-inert tape, cord and sheet gasketing resists attack by everything except molten alkali metals and elemental fluorine. Exceptional temperature resistance (-450° F to 600° F) makes Gore Gaskets suitable for applications ranging from cryogenic to high-temperature processes.
GORE® Sealant Technologies. For the Toughest Industrial Applications.
GORE Sealant Technologies provide reliable fluid sealing for the most demanding applications in the chemical processing, pulp & paper, mining & minerals, semiconductor manufacturing, utilities, power generation and marine industries.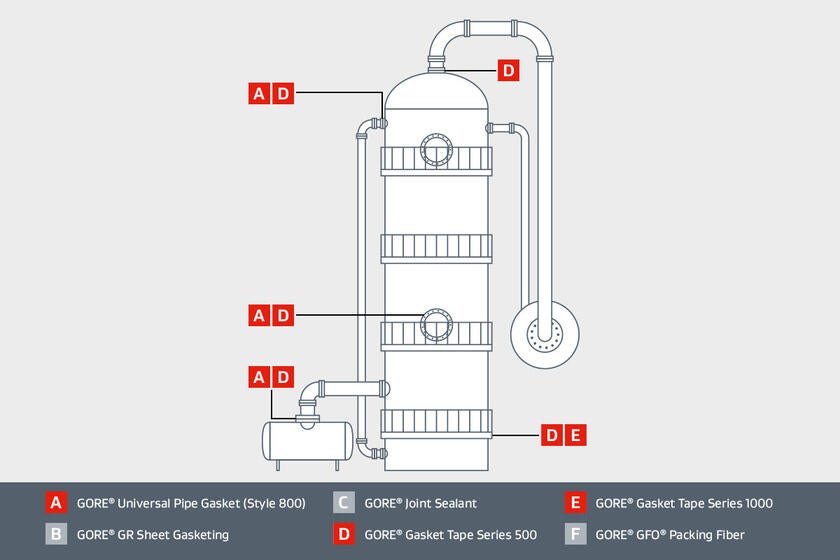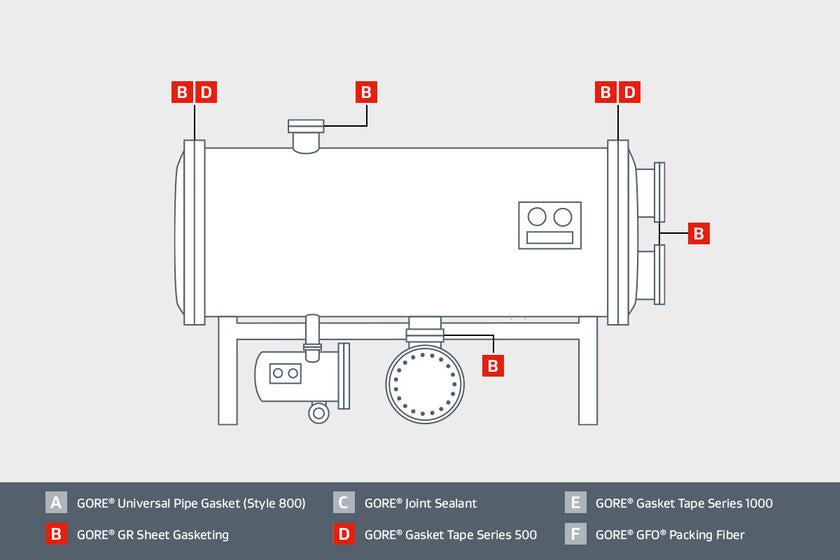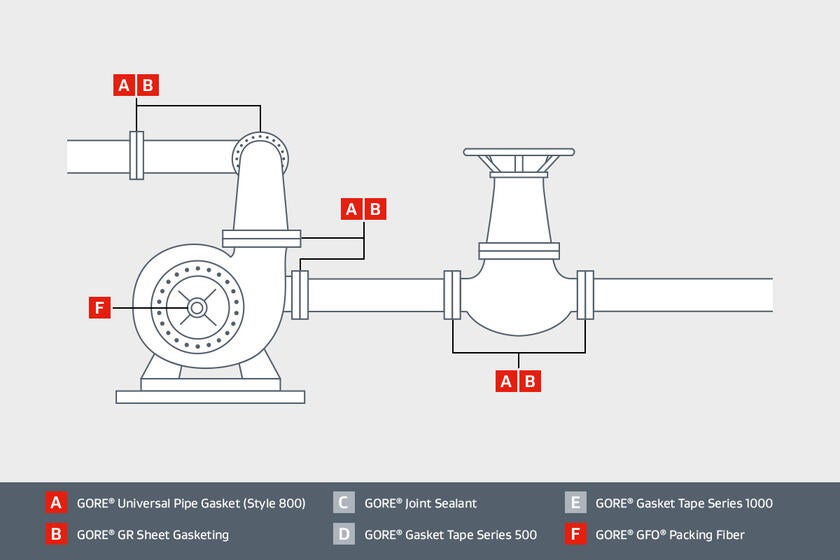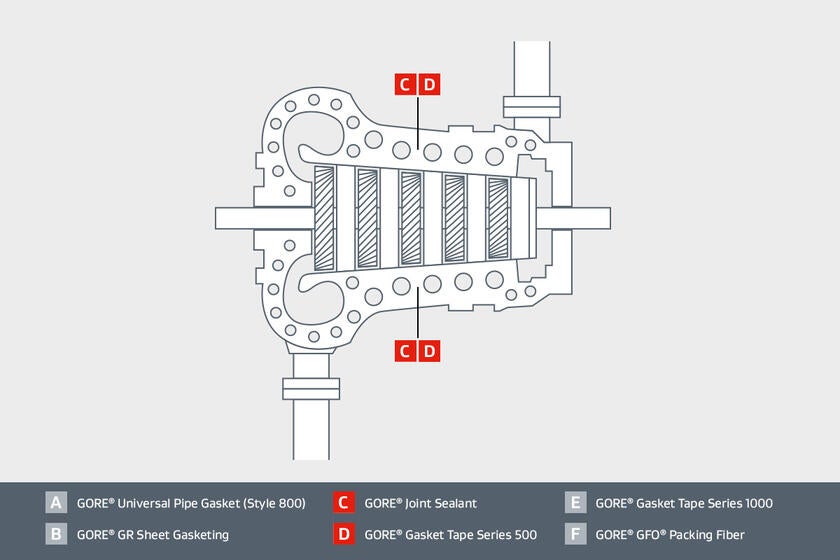 Gaskets for Industrial Applications
---
Packing for Industrial Applications
Gore offers a full line of PTFE fibers for high-performance compression packings. These materials are chemically inert, highly abrasion resistant, and able to withstand temperatures up to 550 o F (288 o C). They can be used in virtually any static or dynamic application requiring compression packing.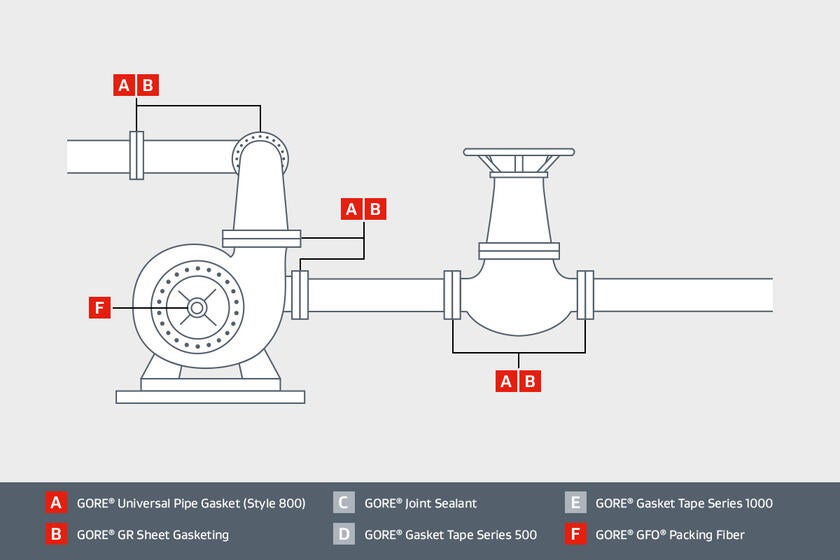 Packing for Industrial Applications